I had another reminder today of either my perpetual bad luck the past 2 years in buying storage devices or just an overall trend of poor manufacturing. As I went to plug in my 2 month old Seagate 1TB Backup Plus Slim Drive the dreaded clicking sound of death emanated from the enclosure.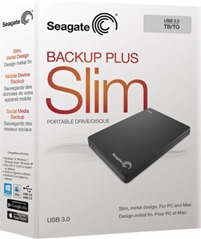 As you could guess the drive was unrecognizable and had failed. I attempted to open the enclosure and reset the spindle as I had seen reports of that temporarily working so I could pull the data but had no luck. A quick side note – this drive uses T3 screws for all but one screw which appeared to a be an octagon shaped head. I had to force the screw out as I did not have that tool available.
The drive was purchased by my office while on the road so I had no input on the purchase but was really surprised when it failed so suddenly. Up to that point and time the drive performed well and seemed solid. A quick lookup at Best Buy revealed I am not the only one experiencing this issue (http://www.bestbuy.com/site/seagate-backup-plus-slim-1tb-external-usb-3-0-2-0-portable-hard-drive-black/3138005.p?skuId=3138005). Luckily I had a backup of all the data on the drive so the company was only out about a $50 spot after disassembling the drive. However, 2016 has not been kind to me regarding hard drives as there were other instances …
I had also purchased a SanDisk Ultra II 480GB SSD for one of my development laptops. The initial drive ran great for 3 or 4 months then one day the screen froze while working and upon restarting received drive not recognized message during bootup. Upon pulling the drive and plugging into an external enclosure saw the same message on 2 different systems. At that point it was time to RMA it. Received a replacement drive from SanDisk but about 4 months after installing the same exact issue. RMA'd again and sold the drive on Craigslist. Hope the poor guy who bought it has better luck than I did. (Another side note – the system was a Lenovo Edge 2 in 1 so not 100% sure if there was some sort of compatibility issue or not. A quick lookup on Newegg did reveal I was not the only one experiencing this issue either. http://www.newegg.com/Product/Product.aspx?Item=N82E16820173012)
The last 2 hard drive issues I have experienced were less catastrophic and one might be more related to a controller. My SurfaceBook purchased at the end of 2015 repeatedly failed to recognize the hard drive and after several months of the issue occurring more frequently – I had to RMA it. Fingers crossed, since I have gotten it back, all appears well.
I had also purchased a PNY 480GB SSD and installed it in my main desktop workstation running Windows 10 Pro. I have not seen a total failure of the drive however the drive will randomly disappear occasionally but always comes back up after several restarts. Most of the times the drive fails to be recognized appears to be related to Windows Updates installing which triggers the issue. At least that is the most common thread I can discern.
I am curious to hear about other user's experiences regarding storage the past few years. I have been working in IT on and off for a little over 20+ years and can only recall a handful of drive failures (2 or 3 in my best estimate). I also still have some drives running over 10 years without a hint of an issue as storage currently. Is it just me or has manufacturing and/or engineering fallen apart recently?